My Memorable Life in Japan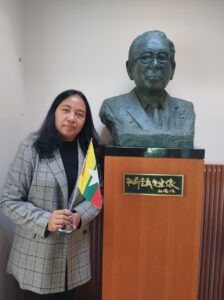 I am so glad when I become a fellow of MIF (2020) at the Department of Physics, Faculty of Education and Graduate School of Engineering, Gifu University, Japan. But my stay in Japan for six months is from   May 2022 to November 2022 due to the coronavirus disease (COVID-19).
In my Ph.D. research, I have theoretically investigated into binding mechanism of double Lambda hypernucleus, LL5H system (consisting of a proton, two neutrons, and two L hyperons) within the three-body framework. My dream is to study the double hypernuclei both theoretically and experimentally. At Professor Dr. Nakazawa's Lab, Gifu University, Japan, the scanning, and analysis of the E07 emulsion is ongoing. The purpose of the J-PARC E07 experiment is a systematic study of double strangeness nuclei. My dream became a reality when after obtaining the GRANT LETTER of MIF.
I would like to express my appreciation to The Matsumae International Foundation, Japan, for giving me a chance to study and providing financial support. I would like to offer my special thanks to my supervisor, Senior Professor Dr. Kazuma NAKAZAWA.
During my stay in Japan, I got a chance to extend my knowledge both theoretically and experimentally. I spend most of my time checking the images in the Nuclear Emulsion detector using a microscope in Laboratory. I got new experiences with emulsion experiments guided by my host Professor Dr. Kuzuma NAKAZAWA. I thank the Sensei's Nuclear Lab members, including Myanmar third-year doctoral student Lin San for their help in doing research. I can get knowledge of the different kinds of research from the weekly meeting of Nuclear Lab members, and I was surprised by the hard-working of the students. I got knowledge of the University students' Education System and was very pleased with this environment.
I visited Hiroshima during my stay in Japan. Hiroshima Peace Memorial Park is an amazing place with a lot of history set up well. During my visit to the peace museum in Hiroshima, I saw documentaries and old films from the previous, and I felt shocked too much, like the people during the war.  I learned many more stories of what actually happened. Hiroshima is a great place to think that peace is everything. I wish that we can learn from its history and will be able to move forward with better peace. I admire the efforts of the Japanese people after the dropping of the atomic bomb.
During my Hiroshima trip, I also visited Miyajima, a small island where the Itsukushima Shrine is located. It is known that the shrine complex is listed as a UNESCO World Heritage Site. There are many attractive places to visit in Miyajima. The Hiroshima trip is memorable for me.
I acquired not only great experience in research but also the lifestyle in Japan. I found that Japanese people are very polite and ready to help always all the time. Additionally, I have seen the good culture and traditions of Japan. I also felt the beautiful nature of autumn.
My research stay in Japan was a precious time for me, and I will always remember the good chance that was given to me. After returning to Myanmar, I will share my knowledge and experience, which I acquired during my stay in Japan, with my colleagues and as well as with students.
Professor, Department of Physics,Loikaw University