Great opportunity in Japanese planet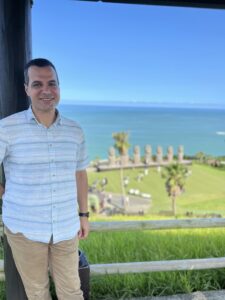 I am an Egyptian professor, earned my Ph.D. from Leipzig University in Germany, followed by two postdoctoral fellowships in Germany and one in France. I've visited various countries in Europe and China, but this is my first visit to Japan.
I was awarded the MIF fellowship in 2019, however, it was repeatedly postponed due to Covid-19 Crisis. Finally, I came to Japan and spent three months (July to September) at Miyazaki University in 2023. It was a great opportunity for new friendships and new scientific partners for further collaboration in the future. Japan is a unique, distinct country that has provided me with a completely unique and novel experience. This country has several advantages; it is a highly safe country and respects others, especially foreigners.
During my stay, I learnt some of new techniques in my field, especially the digital PCR technique. Furthermore, I participated as invited speaker in 13th CADIC International Symposium, titled "What should we do for food security and sustainable livestock production?" and spoke about foot and mouth disease, one of the most important endemic infectious diseases in my country and shared my experience with my Japanese colleagues.
I visited numerous tourist attractions in the Miyazaki area, including Aoshima Beach, Aoshima Island, and Phonix Park, which are amazing places with beautiful scenery. Also, I went to Udo Jingu Shrine, one of Japan's rare coastal shrines, situated along the Nichinan coastline south of Miyazaki City.
I not only gained valuable research experience, but I also got to know the Japanese culture and the lifestyle in Japan. I enjoy traditional Japanese food, particularly Sushi, Ramen, Tempura, and Tofu, which are all wonderful.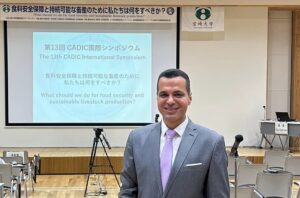 Furthermore, the most exciting adventurous and exciting tour organized by MIF in July to Hiroshima. five MIF fellows from five nations (Hungary, Bosnia, the Philippines, Egypt, and Ethiopia).  I visited Shrine; it was an amazing experience for me to visit several shrines in Japan and learn about the Japanese religion Shintoism.  When I went to the Hiroshima Peace Museum to learn about the atomic bomb. I was startled to witness how the Atomic Bomb affected individuals. The current reality of Hiroshima demonstrates the greatness of the Japanese people as well as the breadth of their commitment to create, develop, and disseminate peace throughout the world.
Finally, it is my great pleasure to express my heartful gratitude to MIF for the fellowship and to MIF employees for their grateful assistance that has made my stay in Japan so enjoyable. I wish the MIF much success in his future endeavors. I will never forget the wonderful opportunity that was given to me in my life.
September 2023
Ph.D. from Leipzig University / Professor of Infectious Diseases, Faculty of Veterinary Medicine, Benha University